VE PREQUEL TRILOGY
Episode I
The Phantom Menace
The Virtual Edition
Episode II
Attack of the Clones
The Virtual Edition
Episode III
Revenge of the Sith
The Fans' Virtual Edition
The Spies' Virtual Edition
Trailers
VE SEQUEL SAGA
PORTAL SITE
The Virtual Edition
Episode VII
Plague of Doom
The Virtual Edition
Episode VIII
The Darkness Within
The Virtual Edition
Episode IX
Duel of the Fates
The Virtual Edition
Episode X
The Riddle of the Pirates
Work in progress
The Virtual Edition
The VE Encyclopedia
| Timeline | Characters | Locations |
| Organisations | Terminology |
OPEN Work in progress
by Nathaniel Reed, 9/2020
Map of the Star Wars

by Nathaniel Reed, 9/2005 | 12/2016 | 06/2018 | 12/2019
Floorplan of the

by Nathaniel Reed, 07/2018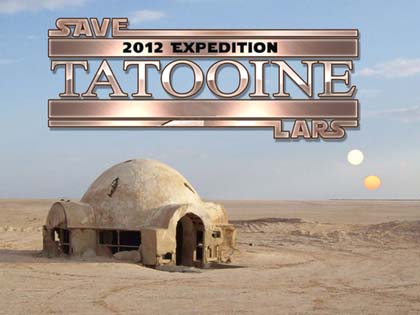 The Prophecy
And in time of greatest despair, there shall come a savior, and he shall be known as : THE SON OF THE SUN.
And he shall bring Balance to the Force.
"Journal of the Whills, 3:12"
Welcome to
Nathaniel Reed's


:: An ongoing episodic story of fan-fic set after Episode VI Return of the Jedi, and inspired by George Lucas' historical draft concepts ::
FAQs
Future SW projects announced by LFL/Disney !
31st December 2020
On December the 10th, Disney announced a slew of new media projects for TV and cinema, including LFL's slate of new Star Wars material. Frustratingly, though not unsurprisingly, the majority of shows are for non-theatrical release.


Star Wars : Obi-Wan Kenobi (Disney+ series) by Deborah Chow, set 10 years after Revenge of the Sith. Kathleen Kennedy, in confirming that Hayden Christensen will be returning as Darth Vader, said "this will be the re-match of the century !".

Concept art revealed to Disney investors apparently showed an unknown Jedi, their lightsaber blade ignited, defending a trio of Younglings as Darth Vader marches on the Jedi Temple with a legion of Clone Troopers in a scene evocative of Revenge of the Sith ; more concept art revealed a stingray-like creature floating above slave workers toiling away in the barren landscape of Tatooine ; an image of the armored Darth Vader seated on a throne communicating with an unidentified hologram ; and the blue blade of a hooded Obi-Wan clashed with the fiery red blade of Darth Vader.

"He has this one task left," McGregor said of Obi-Wan, "which is to keep Luke safe."

Fan site SWNN provided an essay here of what might occur in this new show based on the dialogue from the Original Trilogy.


Star Wars : Rogue Squadron (feature film) by Patty Jenkins, following "new starfighter pilots as they earn their wings and risk their lives".


Untitled Star Wars film by Taika Waititi (feature film), "funny, fresh, unexpected, and unique."


Star Wars : The Acolyte (Disney+ series) by Leslye Headland. "The Acolyte" is a mystery-thriller that will take viewers into a galaxy of shadowy secrets and emerging dark-side powers in the final days of the High Republic era. In a recent interview, Headland said she was inspired by the official galatic map, so that might culminate in a 'road movie' genre of sorts.


Star Wars : Ahsoka (Disney+ series). A Mandalorian spin-off series, written by Dave Filoni and set after Return of the Jedi. A limited series starring Rosario Dawson, following her cameo debut in The Mandalorian.


Star Wars : Rangers of the New Republic (Disney+ series). A Mandalorian spin-off series, set after Return of the Jedi, which is planned to intersect with future stories and culminate in a climactic story event.


Star Wars : The Book of Boba Fett (Disney+ series). A Mandalorian spin-off series, set after Return of the Jedi. The series will be executive produced by Jon Favreau, Dave Filoni and Robert Rodriguez. Fan site SWNN provided this link to comments from Mandalorian creator Favreau regarding this stand-alone series, confirming Temuera Morrison and Ming-Na Wen will both reprise their roles as Boba Fett and Fennec Shand respectively.


Star Wars : Andor (Disney+ series). A Rogue One spin-off written and directed by Tony Gilroy, and due in 2022. A tense nail-biting spy thriller, with Diego Luna reprising the role of rebel spy Cassian Andor, and joined by Stellan Skarsgard, Adria Arjona, Fiona Shaw, Denise Gough, Kyle Soller, and Genevieve O'Reilly as Mon Mothma.


Star Wars : Lando (Disney+ series) by Justin Simien. As yet, we don't know if the fan favourite actor Donald Glover will reprise his role, but we all hope so, following his outstanding performance in SOLO.


Star Wars : The Bad Batch (Disney+ animated series). Set right after Order 66 ! A unique squad of clones who vary genetically from their brothers in the Clone Army, they will take on daring mercenary missions as they struggle to stay afloat and find new purpose.


Star Wars : Visions (Disney+ animated series). A series of animated short films celebrating Star Wars through the lens of the world's best anime creators. The anthology collection will bring 10 fantastic visions from several of the leading Japanese anime studios, offering a fresh and diverse cultural perspective to Star Wars.


Star Wars : A Droid Story (animated feature film). A unique partnership between Lucasfilm Animation and Industrial Light & Magic to explore the intersection of animation and visual effects, this will be an epic journey that will introduce us to a new hero guided by our most iconic duo R2-D2 and C-3PO on a secret mission known only to them.



Also, the first non Star Wars or Indiana Jones movie made by Lucasfilm since the Disney acquisition, based on a 2018 young adult fantasy novel by Nigerian-American novelist Tomi Adeyemi.


Children of Blood and Bone The book, Adeyemi's debut novel and the first book in a planned trilogy, follows heroine Zélie Adebola as she attempts to restore magic to the kingdom of Orïsha, following the ruling class kosidáns' brutal suppression of the class of magic practitioners Zélie belongs to, the maji.
With the culmination of The Mandalorian S2, I have now purchased Disney+, so I can look forward to hours of Star Wars and Disney themed viewing material ! I had been following the weekly story synopses on SWNN, and so I am full aware of the climactic arrival of Luke Skywalker, who had been realised through the blend of actor double, CGI, and voice acting, similar to Tarkin and Leia in Rogue One. Although controversial in its execution, this appears to have been, currently, the best approach to producing a young Luke.
Sadly, following the news of Dave Prowse's passing in November, british actor Jeremy Bulloch passed away aged 75 in mid December. His brief presence and swagger across two episodic movies inspired a multitude of fan praise and media tie-in material. The Official Site gave this tribute, including noting that he appeared 'beside himself' in TESB as an unmasked Imperial officer, and 'later' as a Republic pilot on the Alderaanian diplomatic cruiser Tantive in ROTS.
As the droids escape the gas factory in the illustrated virtual edition of Episode VII : Plague of Doom, Doctor Bloodory appears in front of their barge ! Threepio panics, and inadvertantly sends the barge's claw smashing into the scientist, knocking him to the floor !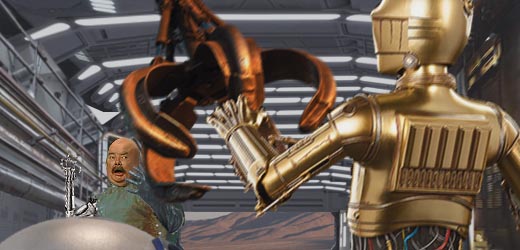 You can see the VE artwork in the 'Kessel' art gallery as well as in the online illustrated story, and you can discuss this in the forum here !
My prose writing for virtual edition Episode X 'The Riddle of the Pirates' has continued, and here I present two 'mystic' scenes......
Nathaniel Reed, 31st December 2020
---


Chewbacca sat cross-legged on the beach, his eyes shut, and his huge furry paws hanging loosely over his knees. Gana and Corsa Solo were similarly posed, while Threepio stood respectfully still to one side. The sibilant lullaby of the surf slipping against the shallows only aided their meditation further. In one hand, Threepio clasped a standard cylindrical comlink, awaiting an update from K2-P8, the pilot-droid, who was liaising with the local workshop. Their shuttle had only barely made it one parsec before they had to land for repairs : the patch on the fuel line had torn, and pressure alarms for the seal around the boarding hatch had begun to sound.

The second planet of the Yota system was a warm oceanic world with atolls and island chains ; its two moons playfully tugged at the tides, doubling the number of daily swells, with the smaller moon even 'hiccupping' the wave crests with an additional mini-pull. The pale blue-green sky above was reflected in the shallows below, darkening in hue as the waters stretched out to the depths. Green palm trees gently swayed on the higher ground behind the group.

Chewie, with his eyes still shut, murmured a soft growl.

Without disturbing his poise, Gana responded with a question. "What do I see ?"

The young boy, eyelids closed, tilted his head a degree in consideration.

"I see numbers.... a vertical pillar of numbers...."

Chewie nodded slightly, and purred an explanation.

"Co-ordinates ?"

"I see the Falcon !" whispered Corsa.

"Yeah, the main ho—"

Chewie growled a query just as Gana continued with the same question.

"Who's that girl...?"

Corsa began to fidget uneasily.

"She's hazy... I can't see her clearly enough..... her features keep... shifting...."

"And there's a bright light now behind her..." Gana put in.

Corsa squirmed and screwed her closed eyes tighter.

"Eurgh... it's getting brighter..."

The servomotors in Threepio's neck whirred loudly as the droid glanced back and forth between the two youngsters. Gana was clearly stressed too, his shoulders jerking this way and that as if he was trying to see around the glare. Threepio threw up his arms in agitation.

"Oh my !" the golden droid wailed. "What is going on ??"

Chewie roared and opened his eyes, and as he did so, the Solo twins likewise opened their eyes, and they jerked backwards. The children threw out their hands to regain their balance, and the fine white sand slipped across their little fingers. Chewie harrumphed a question at the twins.

"Yes, children, are you alright ?" enquired Threepio, his arms spasming in concern. The Wookiee growled an explanation as to the outcome of their meditation.

"A vision, you say, Master Chewbacca ?"

"Yeah," drawled Gana. "Relax, Threepio, it was just images passed to us in the Force."

"Well, not just images," retorted his sister indignantly. "It was quite scary, especially since we could see the main hold of the Falcon." Corsa turned to Threepio and went on,

"There was a jumble of images, you see, and then the vision settled inside the Falcon – dad's ship – and there was a young lady standing there..."

"Who we didn't recognise," added Gana.

"But that was because her image was blurry," explained Corsa, "and then she moved closer..."

"But then there was this bright light growing behind her..."

"... and getting bigger and bigger until it...."

"... filled the entire hold, and swamped us completely !" finished Gana.

"Oh my, how dreadful !" exclaimed Threepio. "Well, at least it was just a dream, or possibly a nightmare..."

Chewie chuckled, and rumbled at the droid.

"Oh ? it wasn't a dream ? It was a vision from the past or the future ?" Threepio paused to ponder the words. "So which one ? The past or the future ? And how can you tell ?"

Chewie growled sombrely.

"You can't tell ?" clarified Threepio. "Oh dear. That is defintely not good news, is it ?"

"No..." agreed Corsa, getting to her feet and brushing her hands of the sand. "But right at the end I had the impression of calmness and peace...."

"Yeah," her brother agreed. "As if any danger had passed, and now there was a clearer path..."

Chewie growled at Threepio.

"Yes, that would be a good idea. I will contact K2 immediately and see if the ship is ready..."





Yuide stood with his arms crossed, his right hand clasped about his chin, deep in thought. His gaze out beyond the viewing bubble of The Nest, the Troig gang's base of operations, took in the view of languidly tumbling asteroids and spasmically flitting meteors befitting of the hazardous environment of a proto-planet, but his sight went further and deeper.

He had fought a Jedi. The first time he had ever come into close combat with one before. He was aware of the Jedi, of course. After the Bogan War, who hadn't ? Magicians who fought and eventually defeated the equally paranormal bogan creatures. He knew they were inspired by the Jedi of old, the traitors who had turned against the Republic. His mother had talked about seeing these super-human marvels when he and his brother and sister were mere toddlers. Battle droids and explosions, occupation and freedom, death and destruction. That's what the Jedi had brought, she had told them.

Yuide pondered the history lesson. He matched it to the first-hand experience he had now witnessed. This Jedi could move, could jump, could react quicker than most other sentient beings. Except for him. He too could move and strike like a serpent, when angered, when that red mist was closing down his vision. Sometimes, he knew, he wasn't even aware of his actions until after the deed.

That tingle, that buzz, that energy, was his closest, most constant companion. It would course through him, he knew, and would fuel him.

And something else had happened during his duel on Serreillea. That tingle had been at its most potent ever. It hadn't been more powerful, as such, but more.... focused. It was as if it had whispered guidance to him. But there was more to it as well.... some sense of connection.... or neediness... to the Jedi he had fought.

He was already aware that he and his twin brother and sister shared this tingle, this energy. As children, and later, as teenagers, they had discussed it amongst themselves. They had compared stories of shared images, abstract flashes that only made sense much later. They had challenged each other comparing their quick reflexes, their ability to lift things without touching them.

But they had not divulged anything to their mother before she had died. They knew they were different. They didn't want to be called freaks by the other children, and so embarrass her. It was their secret, kept guarded between them.

There was a soft whoosh, and one of the doors to the assembly room opened. Yuide had no need to turn and identify the newcomer. He had asked for his brother to join him, and now he could sense his brother's presence too.

"Yuide ? You asked for me ?" Chekkel sauntered up to his brother, and stood beside him. He wryly noted the subject of his brother's gaze, and regarded the rocks tumbling and colliding outside.

"Only now enjoying the property's view ?" he chuckled.

"Mmm. Well as long as the shields hold up," his twin answered sardonically with a grin. Yuide turned to his brother, and Chekk was not blind to the sombre set to his face.

"What's up ?"

"You said you knew we were in danger back there on Serreillea," he began, without preamble. "You saw images, you said."

Chekkel nodded.

"With the buzz ?" he asked, identifying that tingling energy that the three of them had named and called their own.

"Yes," affirmed Chekk. "Every time, as always."

"I've never been as good as you with seeing things..." Yuide trailled off, deep in thought.

"But you can control things with your mind more finely."

Yuide nodded.

"And when I'm angry I can hurt people without touching them..."

Chekkel nodded. His brother's temper was legendary, and they knew the ability to push and pull and lift and squeeze with the power of the mind alone came more easily to him. Chekkel could do these things, but he had to focus and do so for longer. And although he wasn't squeamish or unduly merciful, he preferred not to resort to torture if he could help it.

"Robbiee could sense how we were feeling, she could read others' minds," Yuide went on. "She could always see the bigger picture."

At the mention of their sister, Chekkel looked deep into his brother's eyes, and Yuide looked back, an unspoken vow repeated once more between them. An eternity passed as they each re-affirmed their revenge on Tagge.

Yuide broke the hold, and returned his attention to the maelstrom that was the proto-planet forming outside.

"Our laser swords and whips," Yuide continued. "The weapons of the warrior wizards and the goblin sprites."

"The Jedi and the bogan," confirmed his brother.

"The Jedi who can run faster and jump higher, who can lift things without touching them, who have lightning reflexes." Yuide turned and looked once more at his brother. "Like us".

Chekk nodded, and crossing his arms, leaned back on his heels.

"It's fairly obvious that we share their tricks. Most of our crew do too. That's why they're here with us and why we have them."

Yuide leaned in, an idea intent upon his face.

"But not trained," he pressed, "not to as a high a degree !"

"What you sayin', Yuide ?" his brother smirked. "That we need to rock up to one of their academies, pound on the door, and demand to be let in ?"

"Yes !" Yuide spat back. "I don't know !"

"You're serious ?"

"Back there, on Serreillea, when I was fighting that Jedi, the buzz was there, but it was clearer, more powerful, at my fingertips," he lifted his right hand and waved his fingers, "than it had ever been. Chekk, I could hear whispers.... it was whispering to me... the buzz was telling me what to do...."

Chekkel narrowed his eyes, but remained silent, inviting his brother to continue.

"It was as if me and this Jedi were... were connecting ! It only happened then, and I haven't heard it or felt it like that since."

"These whispers.... could you.... ?"

Yuide shook his head. "No, it was just the feeling that someone was just behind me, whispering..."

Chekkel exhaled, and swung his arms to his side. "Well, sounds to me like you need to get yerself a teacher, when all this is done !"

"Chekk !" retorted the other, quickening to anger. "Don't joke !"

Chekkel held up his palms, backing off. "Okay, okay.... But seriously, this sounds important, like something you should look into..."

Yuide, calming, nodded.

"Yeah... If only Robbiee was with us, she would know...."

"Hey," offered his brother, "I'll put out some feelers. We'll look into it.... together, like we always have...."

"Thanks, Chekk," the other answered. Then he added, almost to himself, "I feel as if something's linked me to that Jedi.... as if he has the answer...."


---