PREQUEL TRILOGY
Episode I
The Phantom Menace
The Virtual Edition
Episode II
Attack of the Clones
The Virtual Edition
Episode III
Revenge of the Sith
The Fans' Virtual Edition
The Spies' Virtual Edition
Trailers
SEQUEL TRILOGY
PORTAL SITE
The Virtual Edition
Episode VII
Plague of Doom
The Virtual Edition
Episode VIII
The Darkness Within
The Virtual Edition
Episode IX
Title tba
The Virtual Edition
Map of the Star Wars

by Nathaniel Reed, 9/2005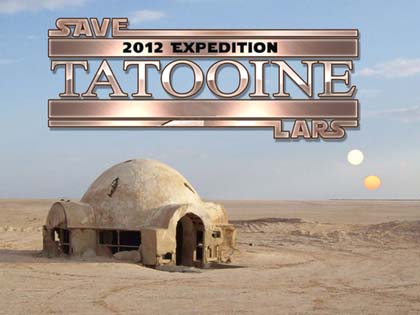 The Prophecy
And in time of greatest despair, there shall come a savior, and he shall be known as : THE SON OF THE SUN.
And he shall bring Balance to the Force.
"Journal of the Whills, 3:12"
Welcome to
Nathaniel Reed's


:: A trilogy of fan-fic set after Episode VI Return of the Jedi, and inspired by George Lucas' historical draft concepts ::
June 2013
Mon Mothma turns next to the Hutts....
30th June 2013
During the later drama playing out in our unofficial Sequel Trilogy, Episode VII : Plague of Doom, the leader of the Galactic Alliance, Mon Mothma, has just publically revealed the secret machinations of the Imperial Emperor, Mas Amedda.
Mon Mothma now requests a secure comms channel to Barrola the Great of Nal Hutta. She wishes to privately inform him that a battle fleet has recently left to engage the Imperials on their encumbered world of Kessel. With Luke Skywalker present, and knowing that the young Jedi Master was instrumental in freeing the Hutt Younglings, she hopes that he will help sway the garrulous Hutt Lord to an amiable and beneficial mood. In turn, Luke begins to get a sense from the Force as to how the conversation may well play out........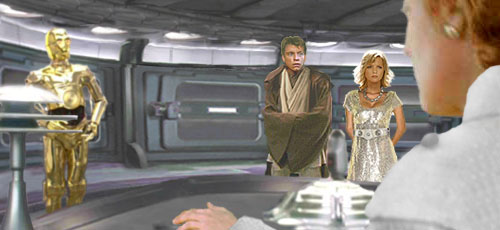 Mon Mothma speaks with the Great Hutt regarding the Galactic Alliance's military action over Kessel, as well as the safe return of the young Huttlets. Barrola, grudgingly prompted by the elderly Watto, thanks Jedi Master Skywalker for his help with their rescue. Luke, in turn, avows that the red-blade wielding lady is not a Jedi, and he will pursue her to justice. In this old image created back in 2009, Barrola the Hutt expresses his gratitude to Luke.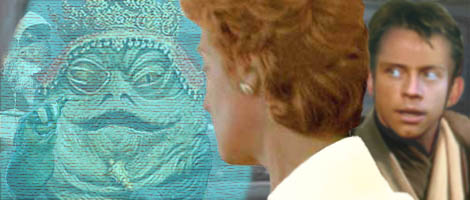 As the holo-comm with Barrola the Hutt ends, Captain Crispin Hoedaak rushes in to alert Mon Mothma of a popular uprising, prompted by Mothma's recent address, outside the Imperial Palace. Luke steps forward and announces that it's time for the Jedi to reclaim their rightful home, the old Jedi Temple. Mothma agrees, asking him to accompany Hoedaak and his marshalls, and protect the protestors.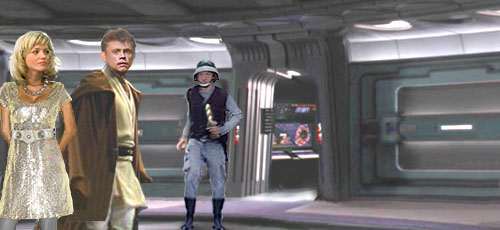 Both of these recent images required me to re-create the unseen 'fourth wall' of Palpatine's under-senate office. This was done by taking elements from existing shots, and flipping them as well as distorting the perspective and scale to ensure the myriad pieces all blended together. It was hard work, but a great challenge : enjoyable creativity !!
You can see the VE artwork in the 'Coruscant' art gallery as well as in the online illustrated story, and you can discuss this in the forum here !
In mid June, LFL quickly moved to confirm the leaked casting call for Episode VII. This appears to have first originated in the UK, and is an open casting request seeking the following character descriptions and traits. It obviously begins to hint at story personalities and possible plots, and ties in with the apparent recent rumours that one or more females will take the lead in the Official Sequel Trilogy.
Late-teen female, independent, good sense of humour, fit.
Young twenty-something male, witty and smart, fit but not traditionally good looking.
A late twenty-something male, fit, handsome and confident.
A second young female, also late teens, tough, smart and fit.
Thirty-something male, intellectual. Doesn't need to be fit.
Forty-something male, fit, military type.
Seventy-something male, with strong opinions and tough demeanour. Also doesn't need to be particularly fit.
Admittedly, the descriptions do sound somewhat comical and tongue-in-cheek, but, since they've been officially verified, we have to remind ourselves of what a similar casting call with 'broad brush' descriptions would have requested pre-'77 for the embryonic cast of the first "Star Wars". In turn, we must remember that Lucas has opted to introduce many significant 'for-the-duration' players as teens, namely, Luke, Leia, the young Obi-Wan, the young Anakin.
So this clearly becomes the first of the siginificant plot rumours to come out, and, more importantly, to be confirmed....
Finally, at the end of June, TFN reported on further rumours via ClubJade regarding the possible large-scale presence of a Star Wars theme park within one of its resorts, likely to be DisneyWorld Florida. Obviously, for myself as a UK fan, a focused SW theme park, executed well, would be amazing, and one would hope its success would be rolled out to the other resorts, especially EuroDisney, France.
Nathaniel Reed, 30th June 2013