Episode I
The Phantom Menace
The Virtual Edition
Episode II
Attack of the Clones
The Virtual Edition
Episode III
Revenge of the Sith
The Fans' Virtual Edition
The Spies' Virtual Edition
Trailers
Map of the Star Wars

by Nathaniel Reed, 9/2005
The Prophecy
And in time of greatest despair, there shall come a savior, and he shall be known as : THE SON OF THE SUN.
And he shall bring Balance to the Force.
"Journal of the Whills, 3:12"
Welcome to
Roderick Vonhögen's
Virtual Edition
May 2006
Star Wars ... in 3D !
30th May 2006
Rick McCallum has recently revealed the intention to convert all six Star Wars episodes to a 3D presentation, not just ANH.
My understanding is that the VFX elements can be separated quite easily, and thus generate the many 'z' layers. X-Wings zipping overhead, in hot pursuit of TIE Fighters ; a lightsabre blade arcing out over the audience ; Sidious' Force Lightning cascading out of the screen ! And similarly the characters can be 'pulled out' from their backgrounds, obviously more so with the PT ; but I imagine the existing techniques can be used likewise on the OT where huge sets were physically built.
It would indeed be pretty awesome and breath-taking to see something like Star Wars in 3D ! We've been discussing the trickle of 3D news in this forum thread.
In the meantime, scheduled for a winter release, the OT will be re-released on dvd with the original '77, '80, and '83 versions as extra features. LFL has responded to fanbase demand ... but due to resources and creative policy will only be transferring a copy from the laserdisc '93 release. It may not be at today's quality, as showcased in the 2004 dvd set, but the fan will at least have a copy of 'Han shooting first' that shouldn't degrade as quickly as their old beloved VHS boxset from the early 90's.
Nathaniel Reed, 30th May 2006
A Star Wars Wedding !
28th May 2006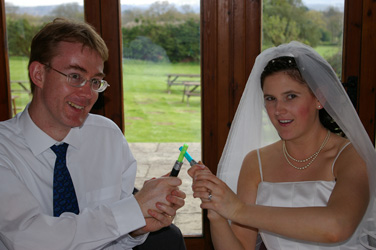 Joanne and I were married on Friday the 28th of April 2006, and as you can see, there was a certain amount of Star Wars present on the day too !! :o)
Courtesy of Kellogg's cereals, each guest received a mini lightsabre / puzzle game, and, true to form, we just had to try them out for size !
As described in last month's VE.net editorial, each table had a card illustrating its 'name', with our 'top table' being called the 'Skywalker' table, with other characters and organisations represented by 'Rebels', 'Imperials', 'Royalty', 'Droids', 'Ewoks', 'Smugglers', 'Wookiees', 'Spacepilots', 'Bountyhunters', 'Jedi', and 'Sith'.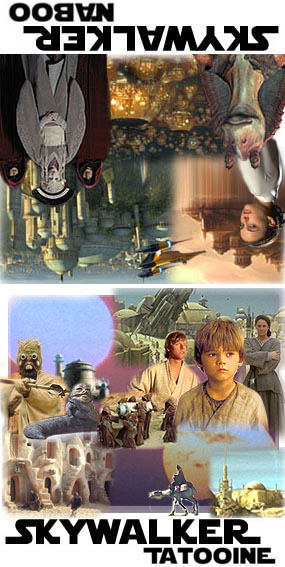 In addition to the table cards, I wore my subtle 'Jedi' tie, my best man wore an 'Ani' tie, and Jo's father showcased a 'TPM spacebattle' tie. And earlier in the day, Jo and I left the church to the 'Star Wars Fanfare' courtesy of one John Towner Williams !
We had a really lovely time, and from my nerves waiting for Jo to arrive all the way through to leaving the hotel's health spa suite the following morning the wedding 'day' will be in our thoughts forever.
Nathaniel Reed, 28th May 2006