VE PREQUEL TRILOGY
Episode I
The Phantom Menace
The Virtual Edition
Episode II
Attack of the Clones
The Virtual Edition
Episode III
Revenge of the Sith
The Fans' Virtual Edition
The Spies' Virtual Edition
Trailers
VE SEQUEL SAGA
PORTAL SITE
The Virtual Edition
Episode VII
Plague of Doom
The Virtual Edition
Episode VIII
The Darkness Within
The Virtual Edition
Episode IX
Duel of the Fates
The Virtual Edition
Episode X
The Riddle of the Pirates
The Virtual Edition
The VE Encyclopedia
| Timeline | Characters | Locations |
| Organisations | Terminology |
OPEN Work in progress
by Nathaniel Reed, 9/2020
Map of the Star Wars

by Nathaniel Reed, 9/2005 | 12/2016 | 06/2018 | 12/2019
Floorplan of the

by Nathaniel Reed, 07/2018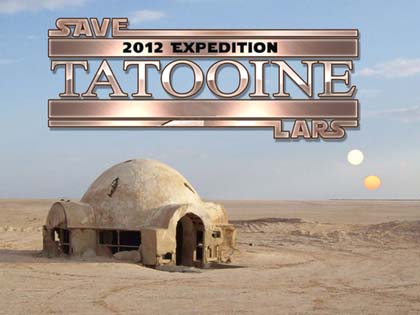 The Prophecy
And in time of greatest despair, there shall come a savior, and he shall be known as : THE SON OF THE SUN.
And he shall bring Balance to the Force.
"Journal of the Whills, 3:12"
Welcome to
Nathaniel Reed's

:: An ongoing episodic story of fan-fic set after Episode VI Return of the Jedi, and inspired by George Lucas' historical draft concepts ::
FAQs
July 2022
TV production updates
31st July 2022
With the TV show Obi-Wan Kenobi now behind us - with rumours of a second series being mooted - attention is now turning to the two-part Andor series, due out at the end of August. At the recent San Diego Comic-Con, two costumes and a new droid were revealed : Cassian Andor, Mon Mothma, and "weary" family droid B2EMO, with passing references to the worlds Coruscant and Aldhani.

In addition, there was a flurry of interest and excitement over a new TV production called 'Skeleton Crew', with the largest budget so far, headed by British actor Jude Law, and following four children (cast aged 10-12 years in age) "lost in the 'Wild Space' region of the galaxy and who are trying to find their way home" ; the series is set in the Mandalorian TV show era, and is also executive produced by Jon Favreau and Dave Filoni.

And late in July, actress Amandla Stenberg finally confirmed her participation in the upcoming Dark Side story Acolyte.
The illustrated virtual edition of Episode VII : Plague of Doom continues, and the Imperial crews rush around with the final preparations ahead of take-off.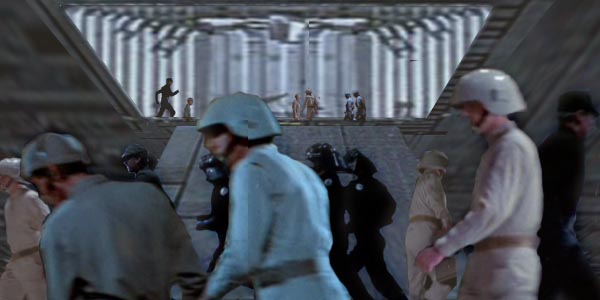 The Star Destroyers begin to lift off from the desert plain.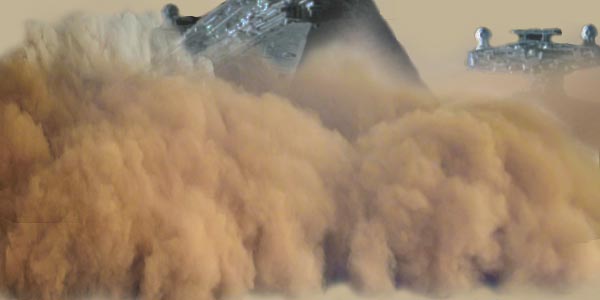 You can see the VE artwork in the 'Kessel' art gallery as well as in the online illustrated story, and you can discuss this in the forum here !
My editorial proof-reading for virtual edition Episode X 'The Riddle of the Pirates' has concluded, and I am now pleased to present it in its entirety here at the VE.net ! Its PDF file can be accessed from the left hand side bar.
Nathaniel Reed, 31st July 2022