PREQUEL TRILOGY
Episode I
The Phantom Menace
The Virtual Edition
Episode II
Attack of the Clones
The Virtual Edition
Episode III
Revenge of the Sith
The Fans' Virtual Edition
The Spies' Virtual Edition
Trailers
SEQUEL TRILOGY
PORTAL SITE
The Virtual Edition
Episode VII
Plague of Doom
The Virtual Edition
Episode VIII
The Darkness Within
The Virtual Edition
Episode IX
Duel of the Fates
The Virtual Edition
Map of the Star Wars

by Nathaniel Reed, 9/2005 | 12/2016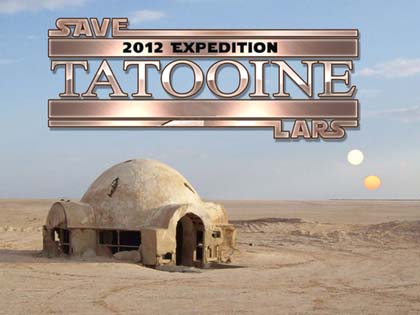 The Prophecy
And in time of greatest despair, there shall come a savior, and he shall be known as : THE SON OF THE SUN.
And he shall bring Balance to the Force.
"Journal of the Whills, 3:12"
Welcome to
Nathaniel Reed's


:: A trilogy of fan-fic set after Episode VI Return of the Jedi, and inspired by George Lucas' historical draft concepts ::
FAQs
March 2017
The Last Jedi teaser trailer rumours !
31st March 2017
Fan site SWNN reported on several rumours describing teaser trailer material for Episode VIII : The Last Jedi :

We see Luke and Rey speaking and training, and we see the student levitating rocks as well as spinning her lightsabre ; Leia reviewing spaceships flying past her ; Poe, with BB-8, in an X-Wing possibly crashing inside the hangar of a spaceship, and then being under attack ; brief shots of individual characters like Phasma and Chewie.

Separately, they also reported on scenes that seemed to show an important procession.... possibly some sort of funeral or memorial.... and the site was wondering if it could be related to Han's death ??! In addition they glimpsed the 'exotic city' as conceptualised for The Force Awakens and likely to be a part of the Croatia shoot ; and an X-Wing (or similar) on approach to a "blue planet" (which could be Ahch-To, where Luke currently resides).

MSW recently reported on huge "gorilla-like" AT-AT walkers, as well as supplying fan-art sketches for Phasma, her coterie of 'executioner stormtroopers', and a scarred Kylo Ren.

In addition, MSW reported that Justin Theroux has been cast for Episode VIII, as an expert 'computer slicer', found in the casino locations of the Croatia shoot.

We're anticipating a lot of news and reveals at the upcoming Star Wars Celebration convention in Florida in mid April, and I'm sure we will see our first glimpse of Episode VIII : The Last Jedi !
SWNN amongst others reported that the Spanish Island of Fuerteventerua is being used as an exotic location for the 'Young Han Solo' movie, and has scenes requiring "hundreds of extras" ; also that Woody Harrelson revealed his character's name as "Beckett", who is a "criminal and mentor to Han" ; and that young British actor Ian Kenny has been cast too, along with black american scarred actor Michael K Williams.
At the end of March an interview with Head Conceptualiser Doug Chiang revealed that Vader's Castle on Mustafar seen in Rogue One was not only heavily illustrated and theorised, but might also make a re-appearance in future material !
An informed and speculative article at SWNN hinted that the OT locales of Tatooine, Endor, and Mustafar might be returning into the Sequel Trilogy ; the first is in relation to a possible initial Jedi Temple / Academy set up by Luke, while the latter two relate to Kylo Ren's 'obsession' with his grandfather, Darth Vader.
An interview with Rogue One director Gareth Edwards revealed that the apparent justification for no deleted scenes on the R1 home release is that the majority of the cut material was "snippets" from scenes ; however, there seemed to be contrary reports of an alternate extension to the final scenes, involving the heroes leaving the Scarif data vault to go to the separate transmissions tower.... but that for brevity of pacing, it was decided to condence both locations into one - a brief shot of the heroes running across the beaches, data tape in hand, can be seen in the R1 trailers ! Surely there must be further footage available ??
In the illustrated fan-fic Episode VII : Plague of Doom, the Force has prompted Leia, and she has urged Admiral Ackbar to pull back the starfighters.
With the all-ship broadcast given out, the Alliance fighters, including Leia's 'Devil Squadron' and the Jedi Elders, retreat to the relative safety of the cruisers' hangars...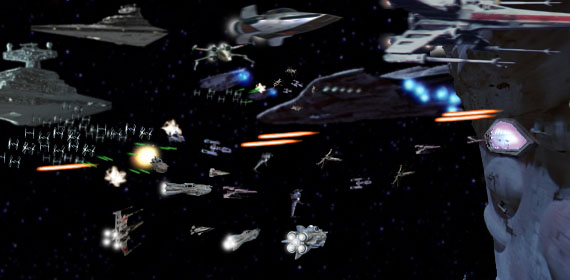 You can see the VE artwork in the 'Kessel' art gallery as well as in the online illustrated story, and you can discuss this in the forum here !
Nathaniel Reed, 31st March 2017