PREQUEL TRILOGY
Episode I
The Phantom Menace
The Virtual Edition
Episode II
Attack of the Clones
The Virtual Edition
Episode III
Revenge of the Sith
The Fans' Virtual Edition
The Spies' Virtual Edition
Trailers
SEQUEL TRILOGY
PORTAL SITE
The Virtual Edition
Episode VII
Plague of Doom
The Virtual Edition
Episode VIII
The Darkness Within
The Virtual Edition
Episode IX
Duel of the Fates
The Virtual Edition
Map of the Star Wars

by Nathaniel Reed, 9/2005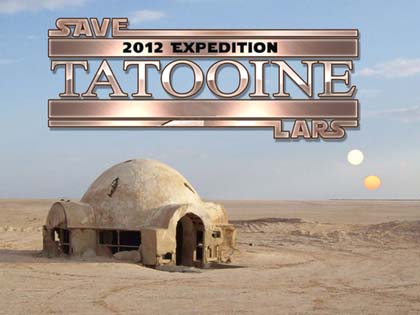 The Prophecy
And in time of greatest despair, there shall come a savior, and he shall be known as : THE SON OF THE SUN.
And he shall bring Balance to the Force.
"Journal of the Whills, 3:12"
Welcome to
Nathaniel Reed's


:: A trilogy of fan-fic set after Episode VI Return of the Jedi, and inspired by George Lucas' historical draft concepts ::
FAQs
October 2016
Third trailer for Rogue One,
Young Lando Calrissian cast for stand-alone movie
30th October 2016
In mid October, the third Rogue One trailer - the second full-length trailer - was unveiled. Although nothing much new was revealed per se, it confirmed Galen Erso's role in the development of the Imperial's superweapon, and therefore why his daughter Jyn is sought after by the Rebel Alliance. There were some really great visuals (including an aerial view of a huge Jedi Warrior statue collapsed into the deserts of Jedha), and, unexpectedley, an exciting space battle over what could be some sort of 'shipyard' too !

This latest - and probably final - trailer can be seen here, and detailed scene analyses can be found at MSW and SWNN.

Inevitably, the 'supercut' 'fan-edits' have since appeared, with this 6 minute one from 'Science-versus-Cinema' particularly inventive and exciting !
In addition, at the end of the month, the official site announced that Donald Glover had been cast as the young Lando Calrissian for the next stand-alone film describing the Young Han Solo, scheduled for 2018.
In the illustrated fan-fic Episode VII : Plague of Doom, although the spacebattle above Kessel is bolstered by the recent arrival of Leia and her 'Devil Squadron', yet more TIE fighters are unleashed from the fleet of Star Destroyers !
Leia spots four enemy fighters racing in towards her and Wedge, and suggests he leads them through the gun salvo being fired from the nearby Star Destroyer... with her on their tails !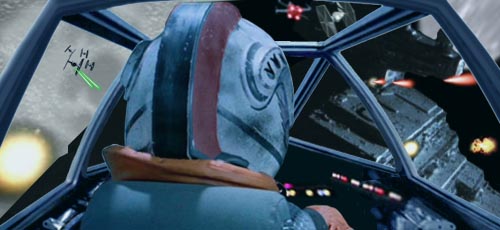 Wedge dives across the Star Destroyer's tower, leading one of the pursuing TIE fighters into the crossfire from the bigger ship's guns, while Leia follows closely behind ready to target the second TIE fighter...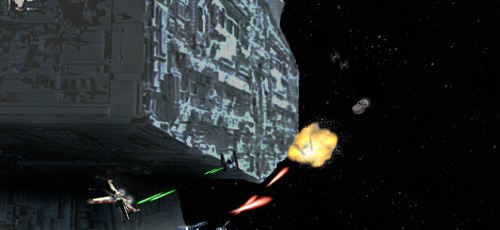 You can see the VE artwork in the 'Kessel' art gallery as well as in the online illustrated story, and you can discuss this in the forum here !
Nathaniel Reed, 30th October 2016